What is Miale?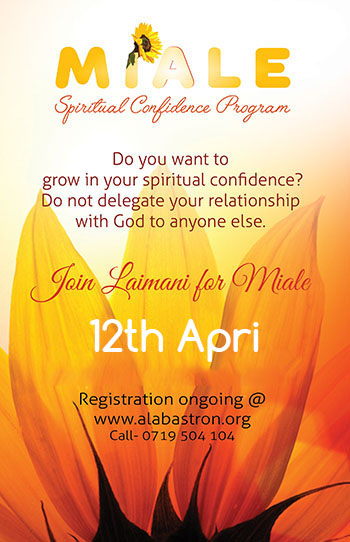 From December 2015 - December 2016, I coached in the Spiritual Confidence Fellowship.
So we met every month for one whole year. During this time we discussed in detail our struggles, clutter, disappointments, praises, victories and the joy we have in God.
We also realized that in order to get full value of Spiritual Confidence we needed to attend EVERY SESSION. And this is how the spiritual confidence fellowship has birthed the Miale Spiritual confidence program.
The commitment is 2 hours once a week for 18 weeks including 1 full day retreat. You have the option of a day class 9.00am to 11.00am or an evening class 6.00 to 8.30pm.
During this program we will delve into:
Can women overcome low /unhealthy spiritual esteem?
Can they be free from the yoke of religiousity?
Can they have a vibrant, fulfilling and confident relationship with God?
Can they connect with God for themselves without relying on third parties?
Can they live a life free of condemnation by self, church and society?
Can they heal from church wounds and the ideal images of self and family presented by the church?
Can they live in full expression of who they are in God and still enjoy life?
To keep updated about this class, like us on FB Miale Spiritual Confidence
Registration is on-going until 16th June. Program starts July 6th.
To register fill the form BELOW or Call 0719504104.
Then check your email inbox for details. It may go to junk/spam mail and sometimes promotions.